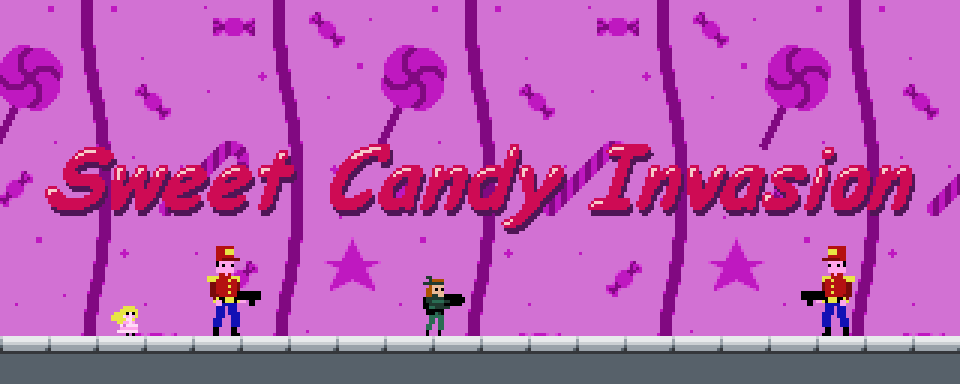 Sweet Candy Invasion
A downloadable Sweet Killer for Windows
Somewhere around the world, it lived a person. One with a deep hate towards candies. So much that he wants to destroy them at first sight.
So when he heard about the discovery of an alternate universe made of candy, thanks to a innovating space warp technology; he didn't think it twice.
He invaded the research laboratory, stole a prototype weapon and activated the space warp machine. The scientists tried to stop that man to enter and shut off the machine, but it was too late: That man entered that universe...
Now, he is on an unknown world, without return, armed and with a single though in mind:
…Destroy it all!!
---
Sweet Candy Invasion is a 2D Platform Arcade game, where your only objective is to survive the longest while destroying all who comes towards you. Shooting your enemies before they kill you.
This game was made for a gamejam called Candy Jam on 2014. I posted it on the hosting place, but I decided to put it here with the other projects I made.
I hope you like this game.
Controls:
Arrow Left/Right: Move
Arrow Up: Look Up
Arrow Down: Crouch / Look Down (while in air)
Z: Shoot
X: Jump
Enter: Pause/Resume
And check my social media and other stuff I made here:
Download
Click download now to get access to the following files:
SweetCandyInvasion.ZIP
1 MB